Walmart Money Card Activate at www.walmartmoneycard.com
Walmart Money Card Login, Activation, and Online Account Setup Guide
Have got a new Walmart MoneyCard Reloadable Debit Card? If so, you may need to register and activate the card to load money before starting using it. To do the task conveniently without much hassle Walmart Card Services offer you a safe and secure website through which you can easily activate your card received via mail. Not only activation, by registering the card over the web, but you can also log in to your Walmart MoneyCard online account and gain access to all the great features of this service. In this article, we will discuss Walmart Money Card Activate, Walmart Money Card Login, and the registration process.
How to Open a Walmart Prepaid Card Account Online 
Walmart Money Card offers the customers to make all purchases at Walmart and get reward cashback with the shopping as well. To get a Walmart MoneyCard Reloadable Debit card, you can directly sign up for an account online for free in the following way.
Fill out an online form with your First Name, Last Name, Address, Apartment or Unit Number, Zip Code, Mobile Number, and Email Address.

Then, enter your Social Security Number and Date of Birth in their fields.

Select the checkboxes to agree to the cardholder agreement and consent to receive calls, messages, and notifications.

Click the "Continue" button and follow the instructions to complete the steps.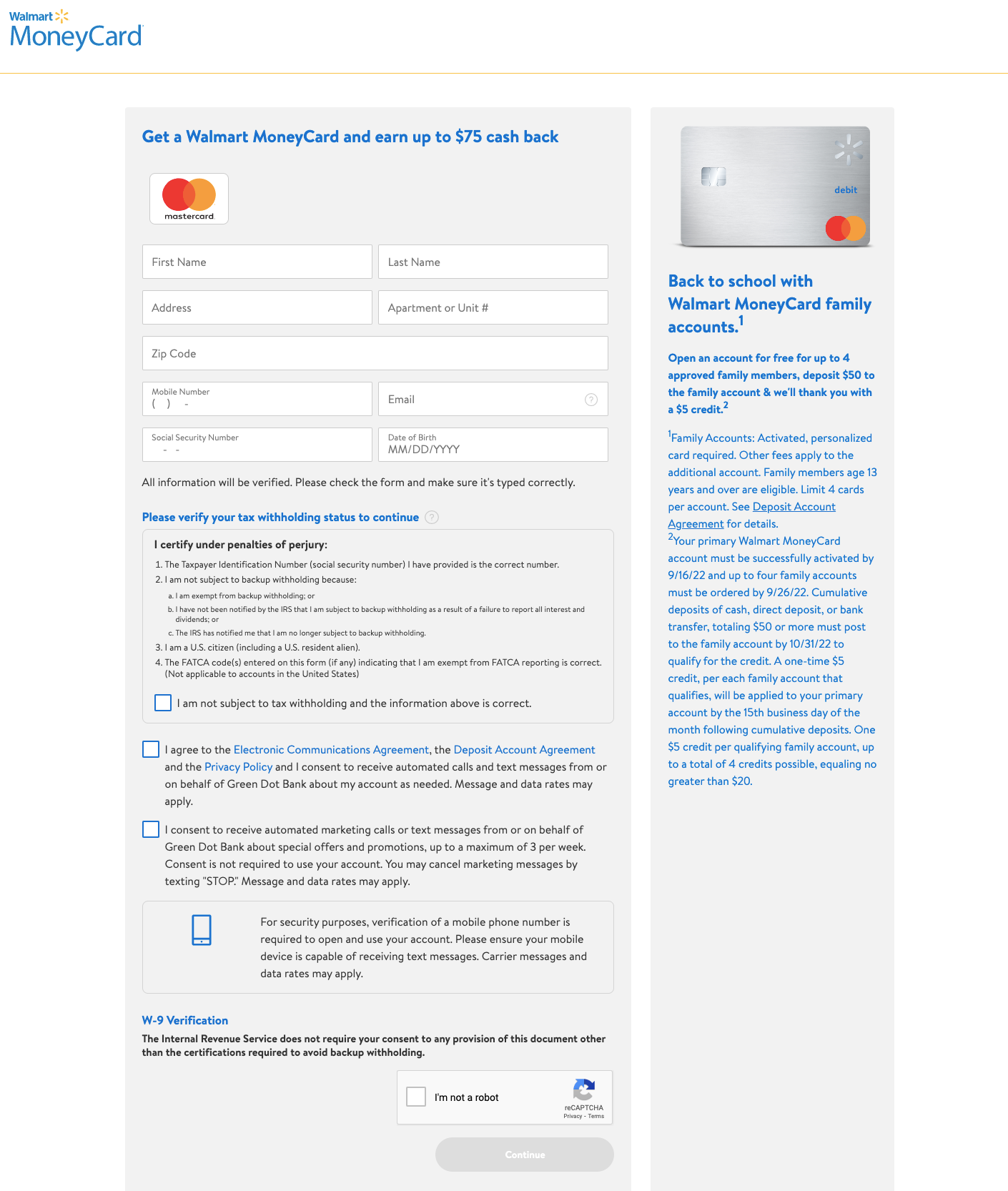 Once your Walmart MoneyCard account is opened, your personalized Walmart MoneyCard Visa or Mastercard Prepaid Card will be sent to you in the mail within 10 to 15 days.
 Walmart Money Card Activate Guide
Whether you have purchased a starter Walmart MoneyCard at a retail location or received a personalized card in the mail after signing up online, you must activate it prior to using it. After activation or registration, you have the option to create an online profile to manage the card account electronically. Here is a short guide provided for you to initiate the activation and online account registration process appropriately for your Walmart Money Card .
Go to the official Walmart Money Card website at www.walmartmoneycard.com

Click the 'Activate Your Card' option from the main menu.
Or, access the Wallmart Card Activation page directly at www.walmartmoneycard.com/activate

Enter your 16-digit Walmart MoneyCard Number, Expiration Date, and the 3-digit Security Code or CVV in their respective fields.
Click the "Next" button to proceed.

Provide some information like your name, address, date of birth, mobile phone number, SSN, etc. to verify your identity.
Once your identity is verified, you will be asked to create a PIN. Then, set up your Walmart MoneyCard User ID and choose a password to access your card account online. Upon completion, review all the information and use the 'Edit' option if you have to make any changes. Confirm to finish your Walmart MoneyCard Online Account creation process and your card will be ready to use.
How to Access Your Walmart Money Card Login Account 
Your Walmart MoneyCard Online Account will be set up during your online card registration and activation. After that, you can log in to your Walmart Money Card online at any time anywhere in a few simple and easy steps as given below.
For Walmart Money Card Login Visit the site, www.walmartmoneycard.com

Click the " Login In" link at the top right corner of the page
Or, access www.walmartmoneycard.com/login to enter the Walmart MoneyCard Login Portal directly.

Fill out the Online User ID and Password fields with the right login credentials.

Select the "Remember User ID" checkbox to store your Walmart MoneyCard username in a cookie on your device. It will fill the User Id box automatically each time you log in to the site. Do not enable the feature if you are on a public or shared computer for security.

Click the "Login" button to enter into your Walmart MoneyCard Online Account.
Now, you can use all the Walmart MoneyCard Online features and benefits. And, able to send money person to person transfer, make online bill pay, view card balance, check transaction history, utilize the MoneyCard Vault, request additional cards, and many more.
How to Reset Walmart MoneyCard Online Account Login Info :
To get back your Walmart MoneyCard Online Account Access if you forgot the required login information, click on the "Forgot User ID/ Password?" link. You will find the option under the entry fields of the Walmart MoneyCard Login page www.walmartmoneycard.com/login .
 Select the option based on the availability of your card, User Id, and submit the following information to retrieve the Username or reset the Password.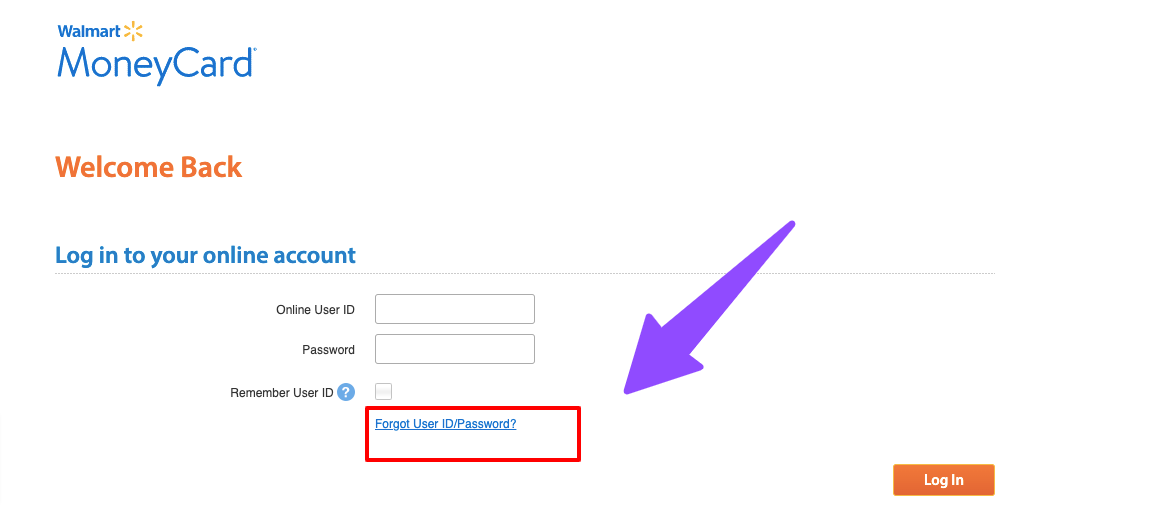 Walmart MoneyCard Online Account User ID

Walmart MoneyCard Number

3-digit CVV

And Social Security Number
More Card Activation Articles
PayPal Prepaid Debit Card Activation
Nordstrom Credit Card Activation
Walmart Money Card Activate and Login  FAQ
Where can I use my Walmart MoneyCard?
You can use your Walmart Money Card to make purchases where Visa Debit & Debit MasterCard are accepted in the U.S.
Can I withdraw money from ATM with my Walmart Prepaid Card?
Yes, you can do ATM withdrawals with applicable fees.
How can I add money to my Walmart Money Card?
You Can add money to your Walmart prepaid card in 4 convenient way
Using the Walmart MoneyCard app
Walmart Rapid Reload
MoneyPak
Cash and load checks at Walmart Money Center
What is the fee of Walmart Rapid Reload?
$3 is applicable for the service fee.
How do I report fraud or a scam for my MoneyCard?
If you believe you have become a victim of fraud, You can complain to the police. You can also submit a fraud report here 
Walmart Money Card Customer Service :
Walmart MoneyCard Customer Service Phone Number: 1-877-937-4098
Mailing Address:
Walmart MoneyCard
PO Box 5100
Pasadena, CA 91117-0100
Reference :
www.walmartmoneycard.com/activate
secure2.walmartmoneycard.com/enroll