www.onlinebanking.NatWestoffshore.com – NatWest Debit Card Activation & Online Banking
by admin
September 04, 2020
NatWest Debit Card Activation & Online Banking
NatWest Bank allows its customers to activate their debit card online for hassle-freely and conveniently using Online Banking services. The bank also enables the new members to register for online banking and then proceed with the activation. Besides, card activation NatWest Online Banking helps you take control of your funds, payments, balance, and keep track of the finance and all from the palm of your hand 24/7.
How to Activate NatWest Debit Card Online
When your NatWest Debit Card arrives you can log in to NatWest Online Banking Services and activate the card online. For that, keep the card along with the mail package handy and go online to complete some simple steps. Here is a brief guide provided you help you initiate the procedure.
Visit the NatWest Online Banking Service Log In Portal, www.onlinebanking.NatWestoffshore.com
Select how you would like to log in.
If you choose 'Customer Number' it is your date of birth followed by your unique number of up to 4 digits. The number was assigned to you during your first registration for NatWest Online Banking.
You can also choose 'Card Number' and enter your 16-digit number across the front of your NatWest Debit Card
Select the "Remember me" if you want to speed up your future login.
Click the "Continue" button to log in.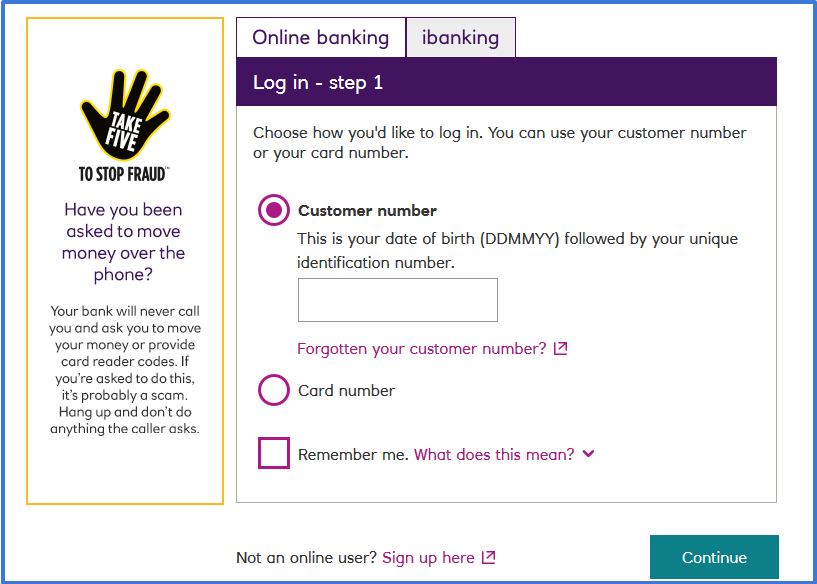 After you enter into your NatWest Online Banking account, select "Cards" from the main menu.
Then click on the "Activate a new debit card" option.
Provide the required details and follow the on-screen instructions to activate your NatWest Debit Card.
Note that, the "Remember me" function can save only your NatWest Customer Number to your computer or device for future visits. It does not work with the Card Number. If you forgot your Customer Number and enter your debit card number to log in, the card number is only used to identify your Customer Number.
The only way to find your Customer Number, Password and PIN is to re-register for NatWest Online Banking Services.
NatWest ibanking Log In & Activation
If you are a NatWest International Bank Accountholder, you will need to log in to ibanking to activate your NatWest Debit Card. For that,
Go to the same NatWest Online Banking portal www.onlinebanking.NatWestoffshore.com or www.onlinebanking.NatWestinternational.com.
Select "ibanking" tab next to 'Online Banking' from the top of the login box.
You will be switched to ibanking log in page to input your Customer Number in its field.
Check the box below to the field if you have an activation code and using the service for the first time or re-registering.
Click the "Next" button and complete the steps as you will be prompted.

Other Ways to Activate NatWest Debit Card
Apart from online, there are several ways for your NatWest Debit Card activation like by phone, text, or via post. So if you do not like online, you can choose any of these methods and activate your NatWest Debit Card conveniently.
By Text Message
Activating your NatWest Debit Card through SMS is one of the quickest and most secure ways. To do that, you need to text the following information leaving a space after each of them.
Sort Code
Account Number
The last 4 digits of your NatWest Card Number
And send the text message to this Number: 00447860009061 (charge will be at standard network rates).
The information you provide in this text will be used only for card activation; not any other purpose.
Read More :

Commonwealth Bank Debit Card Activation
By Phone
You can also speak with a NatWest telephony agent and activate your debit card providing your Customer Number, PIN, and other required information. To use over the phone service you need the same security details as NatWest Online Banking. The Telephone Service is available Monday to Friday from 9 am to 5 pm. During that time of the day, call one of the following phone numbers applicable to you.
Jersey
01534 282850 / +44 1534 282850 (from abroad)
Guernsey
01481 703860 / +44 1481 703860 (from abroad)
Isle of Man
01624 637190 /+44 1624 637190 (from abroad)
Gibraltar
200 77737 / 00350 200 77737 (from outside Gibraltar)
By Mail
To activate your NatWest Debit Card by post, you just need to return the card activation slip that you received with your card in the package.
Note that if you have received a replacement card, the activation is not required unless you have been sent replacement PIN with it.
How to Sign Up for NatWest Online Banking
To activate your NatWest Debit Card over the web, you must be a NatWest Online Banking user. If you have not registered for the service yet, you can do it in a few minutes. For setting up Online Banking, you can take the following steps below.
Before that make sure you are at least 11 years of age and keep your NatWest Account Number, Sort Code, and Card Number handy. You can find all the details of your NatWest account on the statements, checkbook, or paying book. You can also access all this information from the NatWest branches.
Now, go to the NatWest Online Banking Service Login Portal www.onlinebanking.NatWestinternational.com
Scroll down to go to the bottom of the login box and click the "Sign up here" link.
Reaching the registration page, select between the two options, personal and business, to indicate what type of customer you are.
Enter your first name, middle name(s) if you have any, last name, date of birth, and home postcode (leave the space blank if you do not live in the UK) in their fields.
If you are a business customer, you have to input your business code in addition to these details.
Click the "Next" button to proceed.
Complete the rest following the instructions supplied to you. In the end, you will be sent an activation code to activate your NatWest Online Banking Account. If you a have valid mobile phone number on your NatWest file, the code will be sent by text and your NatWest Online Banking set-up will complete more quickly. If not, you will receive the code by post that takes a little longer.
When received, enter the activation code and you will be able to start using the service right away.
NatWest Online Banking Features & Benefits
Once signed up, you can log in to your NatWest Online Banking not only for debit card activation but for a lot of activities to manage your finance. Like you can
View your current NatWest accounts, savings and loan accounts all in one place
Search and view 7 years of transactions
Move money between the accounts
Transfer money to a third-party account to make payments
View and download bank account statements
Opt-in paperless statements
Manage payees and schedule future date payments
Order replacement checkbooks or paying in books
Cancel standing orders and manage direct debits
Set up text alerts and notifications
Update your address and contact details
View bank correspondence in a secure mailbox
Access 'Holiday Plans' to access your NatWest card abroad and many more.
Contact Information
NatWest Personal Account General Customer Service Number: 03457 888 444 and 0345 030 3605 (overseas).
Reference :
www.onlinebanking.NatWestoffshore.com